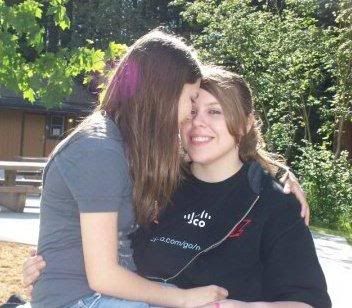 Sarah had been going to Humboldt State University for about 8 months when she moved a "friend" up here to be less lonely.  Turns out that friend was a total monster and a totally different person than the person Sarah had thought she knew.  That night, the 27th of April 2009, Sarah bought her signature Mickey's 40 and sat in the parking lot (not drinking yet) and looking up at the stars and asking the universe for a girlfriend who would be unconditionally in love with her, who wouldn't cheat on her like her previous did, who was from the Bay Area, and who would always be there and never abandon her.  After drinking her Mickey's, she went onto MySpace and did a massive search for lesbians 18+ within 500 miles of Humboldt.  I came up, but my profile was completely hidden, she could only see my profile picture, so she friend requested me.  The next day was my dad's birthday, the 28th.  I went on MySpace, and saw a new friend request. I accepted, looked through Sarah's profile, and messaged her asking why the request.  After talking through MySpace messages and Yahoo! IM for 3 days, I gave her my phone number and said call me.  She called me that night, the 2nd of May 2009, and we talked on the phone from 10pm to 4am (6 hours!) The next night we talked for 4 hours.  We started talking multiple times a day and every night, falling asleep on the phone, making sure our voices were the last thing we heard before falling asleep and the first we heard when waking up.  This lasted until the 1st of June 2009.  I got in a huge argument with my dad and he took my cell phone away from me.  This was the last straw for me and I got on the computer to "do homework".  In reality, I was telling Sarah to please drive down and pick me up (it's a 5 hour drive to my hometown).  She agreed to save me from the destruction that was sure to come from living in that environment.  That day, the 2nd of June 2009 changed both of our lives forever.  I took with my 1 suitcase and my Trumpet and headed up to Humboldt.  We had been living together for about 3 months when we decided I should go to school.  But, since I was only 18, I would have to pay for all of my classes and everything.  So, we decided to get a Domestic Partnership to try to get some financial aid for me.  Turns out that even with a DP, I can only get free classes, but no actual aid.  We got our certificate in the mail and were surprised at the date on it.  The date read 2nd of September 2009.  

And, that's how we got to where we are now.  The evil people have left our lives, and left us to be happier than we ever imagined we would be.  It's now been over a year, and we both know we will not leave.  I hope that you enjoyed reading this and hope it is actually read by you.

Sarah also said that what was written on my profile in my Who I Want to Meet was what really stood out and made her look twice.  This is what is said, and still says.
"-I wanna meet the one person I can spend the REST OF MY LIFE with.
-The one I will INVOLENTARILY THINK ABOUT during the day.
-The one who is ON MY MIND even when they shouldn't be, like when working.
-The one I will one day MARRY.
-The one who will LOVE me for me, NO MATTER WHAT.
-The one who will ALWAYS be there, and NEVER abandon me.
-That's who I wanna meet."
Justin Nozuka – after tonight